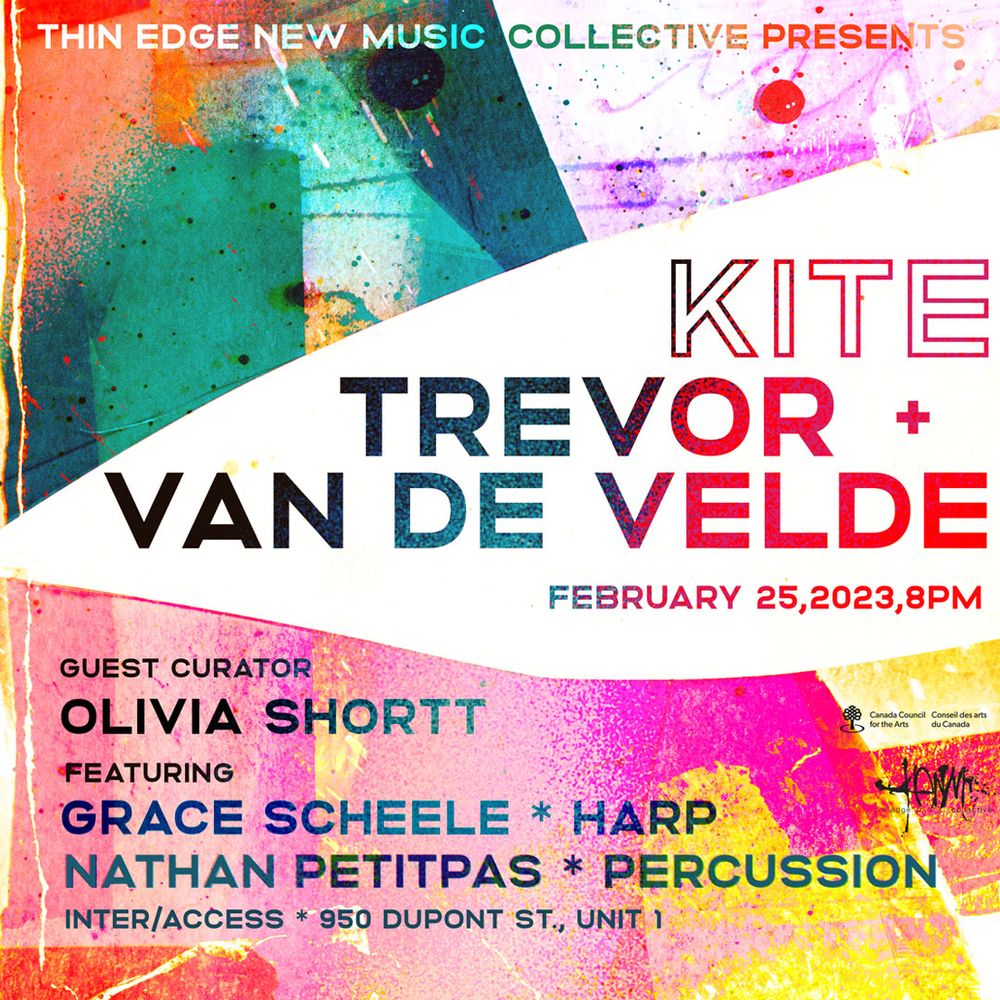 Thin Edge New Music Collective Presents
KITE + TREVOR VAN DE VELDE - Feb 25th, 8pm EST
InterAccess, 950 Dupont St., Unit 1
Tickets available online:
or at the door (cash only):
$15 (student/senior/arts), $20 (regular)
Please join us for the first iteration of TENMC's newly minted Guest Curator series. Curated by the incredible Tkarón:to-based storyteller and multifaceted performing artist Olivia Shortt (They/Them: Anishinaabe, Nipissing First Nation), our concert will feature performances and works by two extraordinary artists, Kite (aka Oglála Lakȟóta performance artist, visual artist, and composer Suzanne Kite) and experimental composer, sound artist and creative technologist Trevor Van de Velde. Kite and Trevor will be joined by harpist, composer and improviser Grace Scheele and TENMC's own Nathan Petitpas on percussion.
Please visit our events page for more details.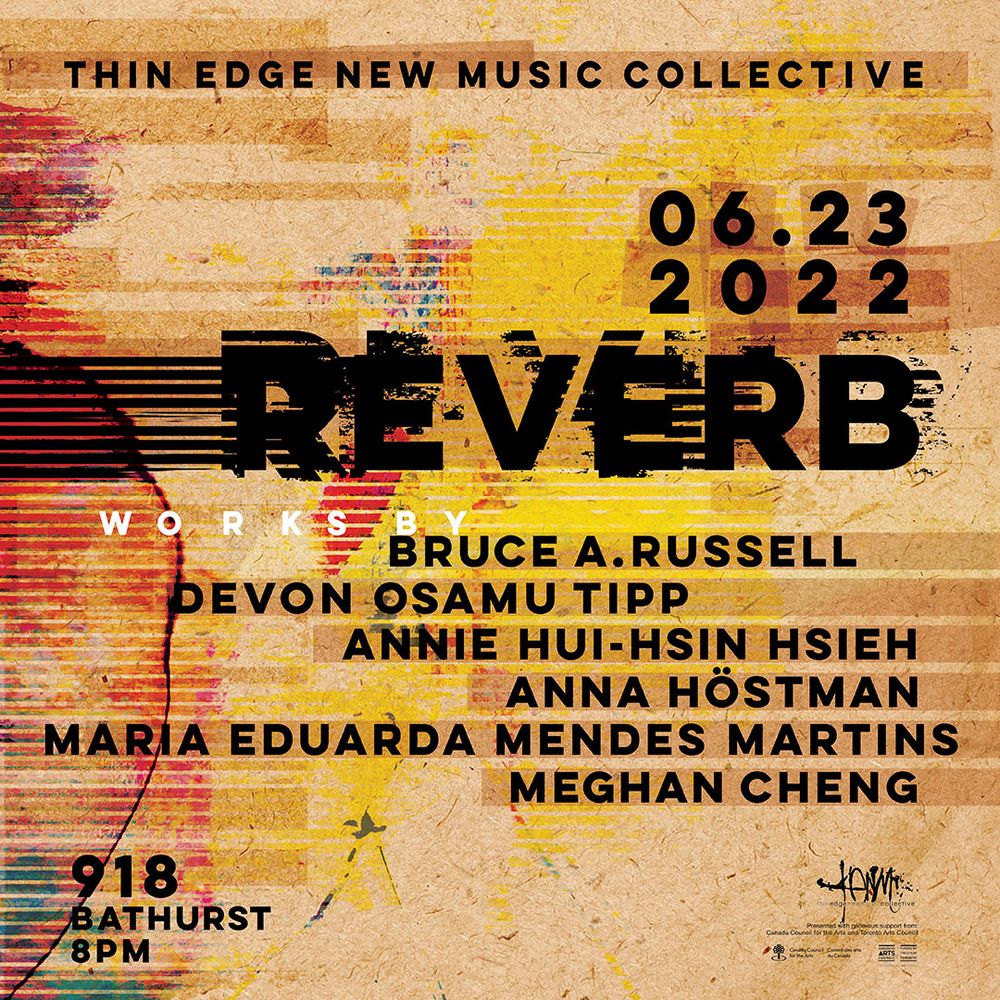 Thin Edge New Music Presents
REVERB - June 23rd, 2022 EST
918 Bathurst
Tickets (available at the door): $20 Students/Seniors/Arts Workers; $25 Adults
Join us for the inaugural edition of Reverb, the final in-person concert of TENMC's hybrid digital/in-person 2021/2022 season. Our programme will showcase works by Maria Eduarda Mendes Martins (Toronto), Meghan Cheng of Ping Interactive Studios (Toronto), Bruce A. Russell (Toronto), Annie Hui-Hsin-Hsieh (Pittsburg/Australia), and Anna Höstman (Victoria).
Please visit TENMC's events page for more details on the show, featured artists and our COVID policy.  
ACCESSIBILITY INFO
918 Bathurst, is not currently wheelchair accessible due to stairs (two half-flights to enter the performance space, and one flight to access the washrooms). 
Thin Edge New Music Collective Presents: 
ONGAKU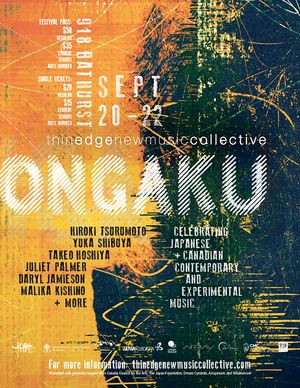 *Celebrating Japanese + Canadian Contemporary and Experimental Music*
 September  20, 21, 22, 2019 
Doors 7:30/ Show 8pm
918 Bathurst | Culture, Arts, Media & Education 
Single Tickets: $20 General Admission, $15 Student/Seniors/Arts Worker
Festival Pass:$50 General Admission, $35 Students/Seniors/Arts Workers  
ONGAKU is a three day festival and cultural exchange celebrating some of Japan and Canada's most exciting voices in contemporary and experimental music (September 20-22nd, 2019, Toronto). TENMC will be joined by visiting guest artists Miyama McQueen-Tokita (bass koto), Ko Ishikawa (shō), Ami Yamasaki (voice) and Akiko Nakayama ('alive painting') as well as Toronto-based Urbanvessel featuring Germaine Liu (percussion), Aki Takahashi (shamisen/voice) and Sonja Rainey (projections/installation).  ONGAKU showcases world premieres by Canadian composers Hiroki Tsurumoto, Juliet Palmer, and Daryl Jamieson, alongside new works by Yuka Shibuya, Takeo Hoshiya, Toshiya Watanabe , and the Canadian premiere of compositions by Yoshiaki Onishi, Jo Kondo, Malika Kishino, and Miya Masaoka. ONGAKU will take place at 918 Bathurst and the CMC Chalmers Performance Space in Toronto, with satellite concerts/workshops presented by NUMUS Concerts and Wilfrid Laurier University in Waterloo, Ontario (September 18-19, 2019).
---
ONGAKU is made possible with generous support from: The Canada Council for the Arts, The Japan Foundation,  Arraymusic, Dream Cymbals, Urbanvessel and the Canadian Music Centre.