THIN EDGE NEW MUSIC COLLECTIVE  + THE CANADIAN MUSIC CENTRE PRESENT: 
DARK FLOWER 
April 16 
 8pm EST 
FREE  
Dark Flower is the first in a series of digital concerts marking Thin Edge New Music Collective's 10th anniversary season. Named in honour of Linda Catlin Smith's newest piano quartet, Dark Flower, was commissioned by TENMC with generous support from the Ontario Arts Council. This concert is a celebration of our long standing relationship with Linda. A guiding voice, and mentor to so many within the contemporary music community, she has been a source of inspiration to us from the earliest days of our ensemble.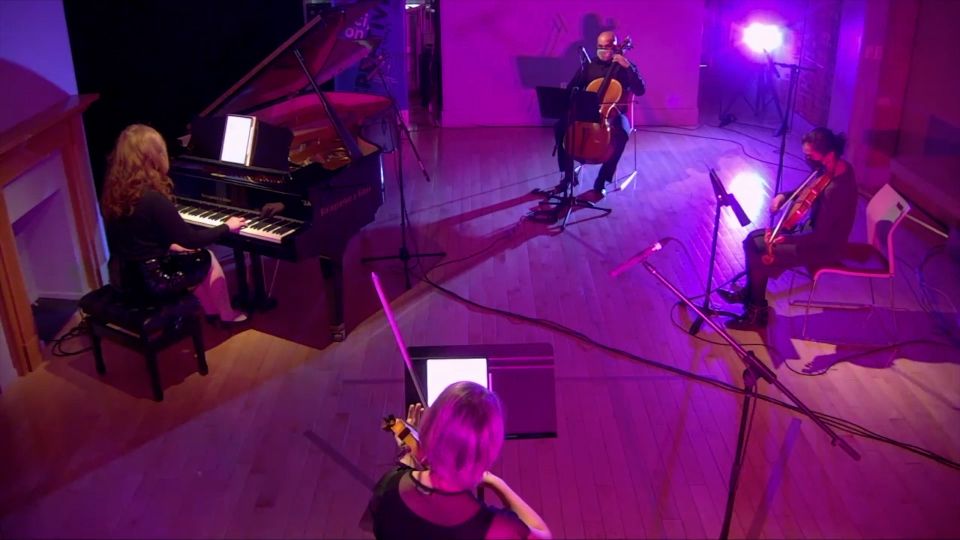 Co-presented in partnership with our friends at the Canadian Music Centre, we are thrilled to be able to share this wonderful digital programme featuring works by Jonathan Bailey Holland, and Sarah Hennies, alongside world premieres by Alex Jang and Linda Catlin Smith.   
We hope you can join us April 16th at 8pm EST!  
We are deeply honoured to announce that TENMC is the recipient of the Canadian League of Composers/Canadian Music Centre 2020 Friends of Canadian Music Award. We have selected Vancouver-based composer Kimia Koochakzadeh-Yazdi as our co-recipient. The prize will be officially presented during the livestreamed concert.   
Read the full announcement at:  
http://bit.ly/2020-FCMA-winners   
Dark Flower is free to attend virtually, with the option to contribute a PWYC donation to TENMC through our Canada Helps Page.   
During these difficult times, if you have the means to contribute the price of a ticket, we would like to suggest that in lieu of donating to TENMC, you direct your funds towards the Native Youth Resource Centre.  
"The Native Youth Resource Centre provides support and advocacy in the areas of housing, education and employment for Aboriginal youth ages sixteen to twenty-four. While many of our clients have been involved with our Child Welfare services, some are Aboriginal youth who have recently arrived in Toronto. All are seeking opportunities, supports and stability." - Native Child and Family Services of Toronto Website. 
PROGRAMME 
Jonathan Bailey Holland - The Intimacy of Harmony (2013), for solo piano 
Sarah Hennies - Lake (2018) for violin, vibraphone and piano 
Alex Jang - Three Short Pieces (2020) for piano, percussion and violin*    
Linda Catlin Smith - Dark Flower (2020) for piano, violin, viola, cello** 
TENMC Performers 
Amahl Arulanadam - Cello 
Cheryl Duvall - Piano 
Nathan Petitpas - Percussion 
Aysel Taghi-Zada - Viola 
Ilana Waniuk - Violin 
*world premiere commissioned with generous support from the Canada Council for the Arts and the SOCAN Foundation 
**world premiere commissioned with generous support form the Ontario Arts Council.
Dark Flower was presented with generous support from  the Canadian Music Centre, Canada Council for the Arts, Ontario Arts Council, Dream Cymbals, the Toronto Arts Council and the SOCAN Foundation.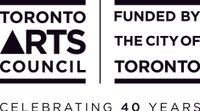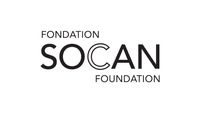 The Music Gallery, Toronto's Centre for Creative Music, presents the fifteenth edition of the internationally acclaimed X Avant New Music Festival from October 1 to 18, 2020.  
All shows will be available to stream online and will be a mix of on and off-site concerts produced by the Music Gallery; (still) located at 918 Bathurst Centre for Culture, Arts, Media and Education.  
Highlights include:  
Abstract punk ensemble OK Miss featuring 2017 Pulitzer Prize winner Du Yun  
Word/sound/power from 2020 Griffin Poetry Prize winner Kaie Kellough with Jason Sharp  
Alanna Stuart (Bonjay) gathers Jamaican-Canadian artists and supporters of different eras in discussion around a community meal.  
Performance from Toronto's own "Groove-Based Indie Jazz" star, Tara Kannangara.  
Toronto's foremost contemporary ensemble, Thin Edge New Music Collective  
Interview with Toronto Black music historian emeritus, Norman "Otis" Richmond  
Nishnaabeg singer songwriter Leanne Betasamosake Simpson and avant-jazz explorer Mingjia livestreamed from the Music Gallery 
Click here for more info on the festival 
---
Thin Edge New Music Collective + Tara Kannangara 
October 4th, 2020 
7pm 
FREE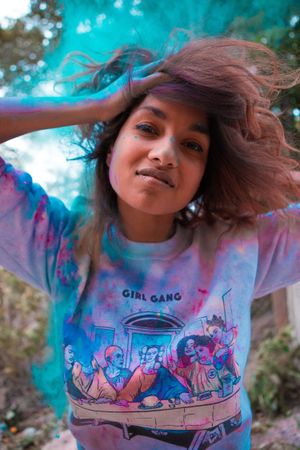 Opening for Thin Edge is JUNO-nominated artist, Tara Kannangara who meshes Pop, Electronic/Synth music, Jazz, and Alternative, into a singular voice that is captivating audiences all over North America.Tara has melded everything she's learned into genre-bending music that will make you cry, dance, smile and feel everything in between.  
Growing up in Chilliwack, BC, she studied classical piano and voice from an early age. She then serendipitously picked up the trumpet in high school at first focusing on classical before moving into Jazz and other genres. Tara studied at the University of Victoria for classical trumpet and vocals but later moved to Toronto to pursue music at the University of Toronto where she came into her own as a performer and songwriter. 
Thin Edge Programme:  
Anahita Abbasi – "Sirventès" (2017) – for cello and percussion  
Leila Adu-Gilmore – "Colour Wheel" (2013) – solo piano 
Lieke Van Der Voort – "IAMTHERIBCAGE" (2018) for solo percussion and electronics 
Franghiz Ali-Zadeh – "Habil Sayagy" (1979) for cello and prepared piano 
TENMC Performers: 
Amahl Arulanandam - cello 
Cheryl Duvall - piano 
Nathan Petitpas - percussion
---
COMPOSER BIOS/PROGRAMME NOTES
---
Anahita Abbasi – "Sirventès" (2017) – for cello and percussion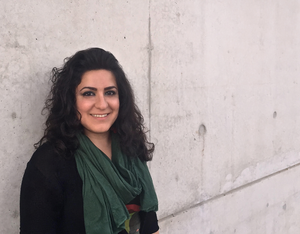 "The piece Sirventès is drawn from both the original meaning of Sirventès and the story telling tradition in Iran. (نقالی) 
[Sirventès  in langue d'oil , is a poem character satirical , political or moral that sang in Occitan language (south of France). These satires, which were usually divided into a definite number of verses comprising a perfect meaning and arranged in a particular way which is observed throughout the poem. They were also intended to be sung like other poems, with themes on nobility , clergy , the Holy See itself, in general persons, events, manners.
Sirventès is in some form very similar to the story telling tradition in the old Persia (current Iran). Iranian narration or Iranian myth-telling (نقالی) is the oldest form of myth-telling in Iran and has long played an important role in society. A narrator is someone who tells an epic narration and the content of his narrations is more about the story of the kings and heroes of Iran.]
In this piece, the composer (the storyteller) demonstrates a story inspired by the above mentioned origins and characteristics. It is an illustration of a ritual and the dialogues between the two characters. With the repetitions and patterns, the bell ring and the use of frame drum, the piece unfolds its'  abstract poem form, to an intimate dialogue exploring the idea of touch." -  Anahita Abbasi
Anahita Abbasi is an Iranian born, San Diego based composer and curator. Her music has been described as "a dizzyingly sophisticated reverie - colorful and energetic" (The guardian). "This theatrical listening experience" "embodies tremendous timbral exploration and multilayered performance gestures" (de Volkskrant & Classical Voice America). She received commissions by distinguished musicians around the world, such as M. Esfahani, S. Schick, R. Heller, International Contemporary Ensemble, Mivos Quartet, Ensemble Modern, Tak Ensemble and has been programmed at numerous venues and festivals, such as Mostly Mozart Festival, Kennedy Center, Lincoln center, Southbank Centre,  Darmstadt Ferienkurse, Tectonics, Niefnorf, Akademie der Künste Berlin, Klangspuren, IRCAM, Klang Festival, Experimental studio des SWR, BIFEM and many others. Ms. Abbasi received several awards, including a work-scholarship from the Experimentalstudio des SWR, Freiburg (2014), a Morton Gold ASCAP young composers award (2015), a nomination for "women composers of our time" alongside K. Saariaho and I. Mundry (2017) and the composition prize of the Acht Brücken Festival (2019). She is a founding member of Schallfeld Ensemble (Austria), as well as a curator and co-artistic director of IFCA, Iranian Female Composers Association (US.) Ms. Abbasi holds a degree from the University of Music and Performing Arts, Graz, Austria, and she is currently completing her PhD in composition at the University of California, San Diego.
---
Leila Adu-Gilmore – "Colour Wheel" (2013) – solo piano
I Headbangingly
II Clear Stream
III Rags
IV Devil-May-Care
V Mirage
VI Woods
VII Danse
VIII Hope and Fear
Dedicated to Jenny McLeod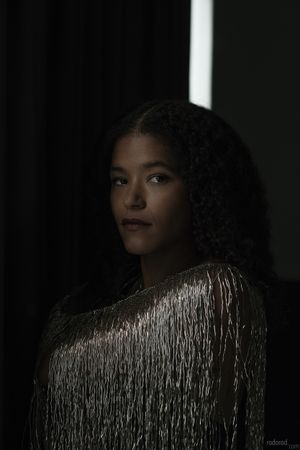 "Between 1988 and 2011, Jenny McLeod wrote twenty-four "Tone Clock Pieces" for piano in several volumes; the pieces are varied, jewel-like and fluid… I fell in love with Tone Clock piece II and pianist, Kate Campbell and I decided that III would be a nice complement to tonight's program.
I responded to Jenny McLeod's music because I came across her music and her expansions on tone clock theory many years ago; the audibility of "tone clock theory" struck me. In his article, "Crystalline Aphorisms: commentary and analysis of Jenny McLeod's Tone Clock Pieces I–VII", Mike Norris lucidly explains:
"Given the poise and refinement of McLeod's writing, as well as the somewhat unusual fact that the theory itself is explicitly contained in the title of the collection, the Tone Clock Pieces have become important exemplars for composers, musicologists and educators in Australasia. Tone-clock theory is, at heart, an attempt to develop a systematic approach to chromatic composition... In total there are 220 set classes in Forte's theory, including 12 three-note classes (trichords). Peter Schat discovered that of these 12 trichords, 11 can be transposed and/or inverted in such a way that every note of the chromatic scale is generated once and once only. After exploring Schat's ideas, McLeod discovered this property in other-sized set classes as well. In fact, she systematically examined every set class in Forte's list, annotating whether or not it had this property, as well as noting many other transpositional and symmetrical properties that were not included in Forte's lists of set classes. In addition, she also cross-referenced her findings with other chromatic techniques and theories, notably those of Messiaen, Boulez and Xenakis. This table—her "chromatic map"—is an extremely important, if little-known contribution to chromatic musical theory."  
(Canzona 2006, Composers Association of New Zealand)
I wanted to create each piece in such a way that I could focus and hear the qualities of each "hour" (organized collection of intervals) to pragmatically get my hands stuck into a theory that seemed overarchingly huge. I used Jenny McLeod's "Tone Clock Theory Expanded: Chromatic Maps I & II" (SOUNZ: 1994) to "steer" one trichord (and once a tetrachord) with another for each movement — to create full chromatic saturation. I began each next movement with the chord that steered the last; hence, each hour bleeds into the last like a colour wheel. I enjoyed the natural feel of McLeod's "Tone Clock Pieces" and I played with accelerating and decelerating along with differing fractional note lengths. For the final piece, I went crazy on the advice of Professor Lansky and read my chart diagonally… to make a sonic soup of the first movements. Enjoy!" - Leila Adu-Gilmore
Leila Adu-Gilmore recently produced her fifth album and has performed her songs and improvisations for voice accompanied by piano/organ, solo and with bands, touring to venues and festivals in Europe, Australasia, Indonesia, Russia and the United States. Adu-Gilmore is currently a Ph.D. fellow at Princeton University; since completing a B.Mus. (Hons.) at Victoria University of Wellington (N.Z.) and composing for ensembles including gamelan and orchestra, she has written instrumental and electronic music for film, theater, television documentary and dance.
---
Lieke Van Der Voort – "IAMTHERIBCAGE" (2018) for solo percussion and electronics
"Based on nightly thoughts and dreams, IAMTHERIBCAGE explores self-sabotage, fear of the self and, ultimately, the fear of fear."
IAMTHERIBCAGE
Inside innards and indigo veins
Sweat on backs, doubt in heads
Slowly dissolving a voice
Becoming a static
Smother and suppress
Thoraxes with bones with marrow
Thought a trusty chaperone
Allow for sorrow trickling,
Seeping impermanence to
Undying safety.
Inhabit a ribcage
Perpetually knowing self
Inhibit a ribcage
Perpetually loathing self
I AM YOU I SEE YOU
ALWAYS AND ALWAYS IN
ALL WAYS
YOU CANNOT HIDE FROM THIS RIBCAGE
I CANNOT HIDE INSIDE THIS RIBCAGE
IAMTHERIBCAGE
IAMTHERIBCAGE
IAMTHERIBCAGE
I designed this carrion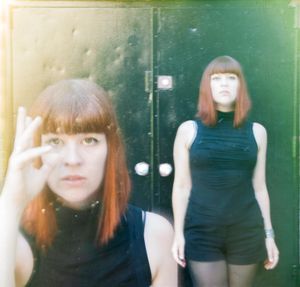 Dutch composer and vocalist Lieke van der Voort's works have been described as having "rare dramatic intensity", "a strong signature" and "a voice that is important within the new generation of composers" (Neomemoire, 2019). She focuses heavily on improvisation, physical theatrical gesture and vocal use. Lieke frequently uses her own text, confronting the emotional-psychological impact of ongoing social issues. Current pieces include "Endings" (commissioned and premiered by Jumblies Theatre 2018), "center, unrestrained" (PIVOT, Continuum Contemporary Music, 2019), IAMTHERIBCAGE (Thin Edge New Music Collective, 2019), Damage/Visage (Émilie Girard-Charest, 2019) and "Is this a tomb or am I in love" (Women From Space Festival, 2020). She leads and vocalizes in Kontraband Kollektif, an art music collective, with its debut EP "Atropos" having been released in January 2018. 
Lieke was selected as a composer for Toronto Creative Music Lab 2017, Soundstreams Emerging Composer Workshop 2018, PIVOT 2018/19, and participated at Banff's International Workshop in Jazz and Creative music, where she studied under the guidance of Vijay Iyer, Tyshawn Sorey and Okkyung Lee. 
http://www.kontrabandkollektif.com/index.html
---
Franghiz Ali-Zadeh – "Habil-Sayagy (In the style of Habil) (1979)" for cello and prepared piano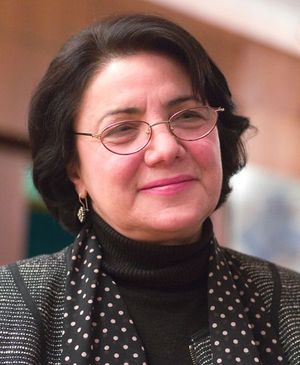 Franghiz Ali-Zadeh studied piano and composition with Kara Karayev at the Baku Conservatory between 1965 and 1973, whose aspirant she was from 1973 to 1976. Upon completion of her studies she taught music history at the Conservatory in her native city until 1990. Beginning in 1990 she was a professor of contemporary music and history of orchestral styles. Ali-Zadeh has primarily lived in Germany since 1999. As a pianist she has been indefatigably committed to the works of contemporary composers of the former Soviet Union and of the Second Viennese School.
Franghiz Ali-Zadeh's compositional style moves between the traditional music of her homeland of Azerbaijan and the (at times also experimental) music of the present day. Two forces are at work in her, she once said, and the new results from the contradiction between them. Her style is characterised by a bold synthesis of these two worlds. Ali-Zadeh creates music in which Eastern modal thinking merges with Western constructive elements.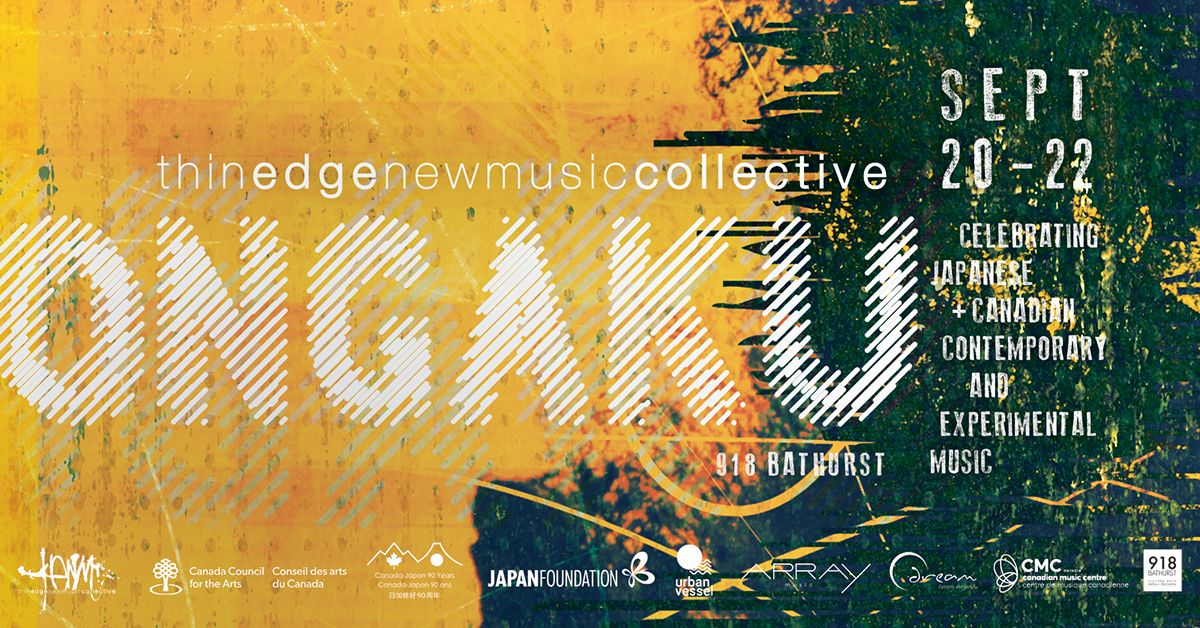 Thin Edge New Music Collective presents:
ONGAKU
Sept 20-22 2019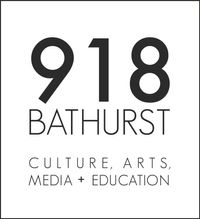 Tickets: Festival Pass: General $50, Student/Senior/Arts Worker $35
Single Ticket: General $20, Student/Senior/Arts Worker $15
Join us Sept 20-22nd at 918 Bathurst for the opening production of TENMC's IXth season. ONGAKU is a three-day festival and cultural exchange celebrating some of Japan and Canada's most exciting voices in contemporary and experimental music. TENMC will be joined by visiting guest artists Miyama McQueen-Tokita (bass koto), Ko Ishikawa (shō), Ami Yamasaki (voice) and Akiko Nakayama ('alive painting'), as well as Toronto-based Urbanvessel, featuring Germaine Liu (percussion), Aki Takahashi (shamisen/voice) and Sonja Rainey (projections/installation). ONGAKU showcases world premieres by Canadian composers Hiroki Tsurumoto, Juliet Palmer, and Daryl Jamieson, alongside new works by Japanese composers Yuka Shibuya, Takeo Hoshiya, and the Canadian premiere of compositions by Toshiya Watanabe, Yoshiaki Onishi, Jo Kondo, Malika Kishino, and Miya Masaoka. 
Concert 1: Sept 20, 2019, Doors 7:30pm / Concert 8:00pm • 918 Bathurst
An evening of chamber works by Tōru Takemitsu, Miya Masaoka, and the Canadian premiere of Malika Kishino's 'Qualia' for bass koto and 10-channel electronics. World premieres by Hiroki Tsurumoto, Takeo Hoshiya and Yuka Shibuya. Featuring guest artists Ko Ishikawa (shō), Miyama McQueen-Tokita (bass koto) + Akiko Nakayama ('alive painting'/projections).
Workshop: Sept 21, 2019, 11am-1pm • Canadian Music Centre Chalmers Performance Space • FREE
Join us at the CMC for a free workshop with guest artists Ko Ishikawa and Miyama McQueen-Tokita. Learn about the intricacies of writing for traditional Japanese instruments (shō and bass koto) in a contemporary music setting. Includes a panel discussion with composers Daryl Jamieson, Hiroki Tsurumoto, Yuka Shibuya, and Takeo Hoshiya.
Concert 2: Sept 21, 2019, Doors 7:30pm / Concert 8:00pm • 918 Bathurst
TENMC performs works by Jo Kondo and Yoshiaki Onishi with improvisations by Miyama McQueen-Tokita, followed by a set of creative music by guest artists Ko Ishikawa (shō), Ami Yamasaki (voice), and Akiko Nakayama ('alive painting') combining traditional Japanese instruments, extended vocal techniques and stunning visuals.  
Click on the link below for a sneak peak!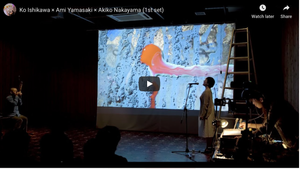 Concert 3: Sept 22, 2019, Doors 7:30pm / Concert 8:00pm • 918 Bathurst
Works by Yuka Shibuya and Toshiya Watanabe (Canadian premiere) alongside the world premieres of large-scale multimedia works "Utamakura 5: Mount Kamakura" by Daryl Jamieson and "Ukiyo, floating world" by Juliet Palmer of Urbanvessel. Featuring guest artist Miyama McQueen-Tokita (bass koto), and Urbanvessel performers Germaine Liu (percussion), ​Aki Takahashi (shamisen/vocalist) with Sonja Rainey (projections/installation).
Guest Artists:
Ko Ishikawa - shō
Ami Yamasaki - voice
Akiko Nakayma - 'alive painting'/live projections
Miyama McQueen-Tokita - bass koto
TENMC Performers:
Amahl Arulanandam - cello
Suhashini Arulanandam - violin
Cheryl Duvall – piano/co-artistic director
Terry Lim - flutes
Nathan Petitpas - percussion
Anthony Thompson - clarinet
Aysel Taghi-Zada - viola
Ilana Waniuk – violin/co-artistic director
Urbanvessel:
Juliet Palmer - composer/artistic director
Germaine Liu - percussion
Aki Takahashi - shamisen/voice
Sonja Rainey - projections/installation
Lighting Design/Technical Director - Kai Masaoka
Sound Director - Paul Hodge
Performance Dates:
Approximate Run Time: 90 minutes
Friday, Sept 20, 2019 - 8:00pm 
Saturday, Sept 21, 2019 - 8:00pm
Sunday, Sept 22, 2019 - 8:00pm
ONGAKU was presented with generous support from the Canada Council for the Arts, The Japan Foundation, Arraymusic, Dream Cymbals, Urbanvessel and the Canadian Music Centre. 
Did you miss Ongaku? Check out some of the photos below and download the full festival program with of composer bios and more!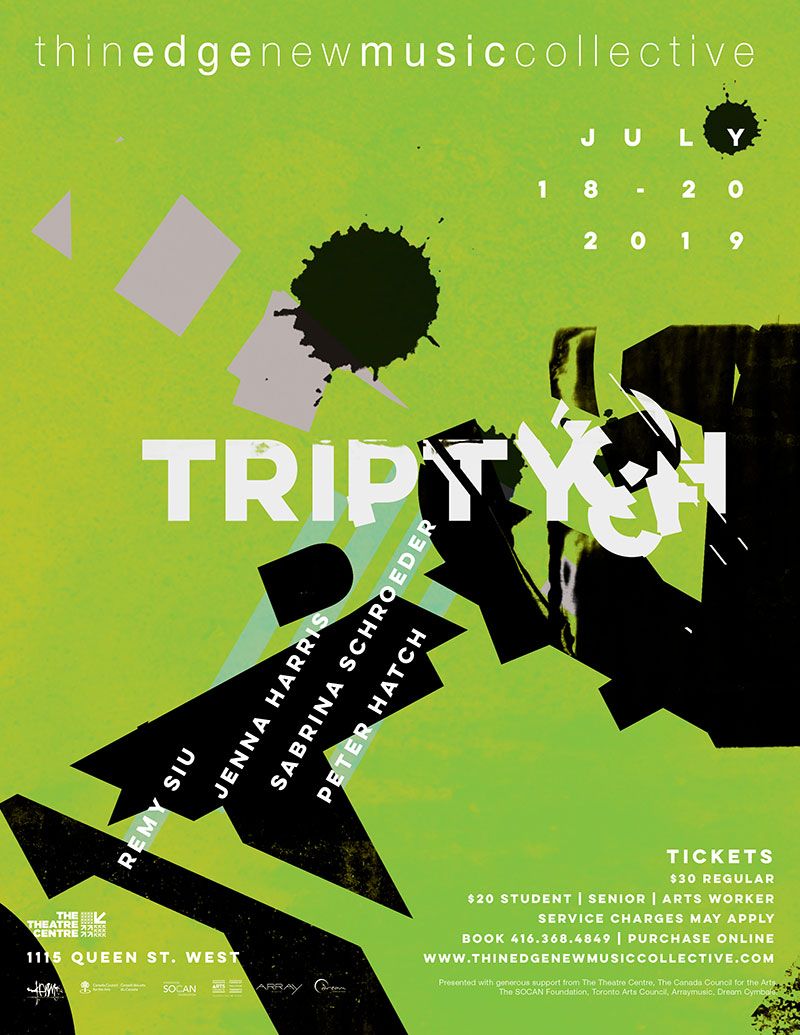 Thin Edge New Music Collective Presents: 
TRIPTYCH 
 July  18-20, 2019  
Doors 7:30/ Show 8pm 
The Theatre Centre, 1115 Queen St. W, Toronto 
Tickets:General Admission - $35, Students/Seniors/Arts Workers - $25 
Purchase Tickets 
Blurring realities between contemporary music, technology, gaming and theatre, Triptych features the premiere of 3 interdisciplinary works by Remy Siu 蕭逸南, Sabrina Schroeder(composer) + Jenna Harris (playwright/actor), and Peter Hatch's 'Triptych'. Twenty years in the making, TENMC will perform the world premiere of the entirety of this monumental three-part chamberwork exploring the theatricality of musical ritual.  
Check out this short teaser of Remy Siu's new work!